Recently, possessing tech skills has become a necessity for humans. The world is steadily drifting towards digital. Experts say digital life will mostly change humans' existence for the better over the next 50 years. However, they warn this will happen only if people embrace reforms allowing better cooperation, security, basic rights and economic fairness. If we humans need these skills as a means of survival, what of our businesses? After some brainstorming, we have put together, some skills which every small business owner should know.
Website Design
A website gives a business more credibility and exposure. Someone searching for your kind of business online can easily locate you, considering that people spend a lot of time on the internet.
Luckily, designing a website has become so easy using website builders such as WordPress. Just log in to make changes to your site or add new content in a matter of minutes. It has so many amazing features and templates that can make your site look great and at a relatively low cost
Business Intelligence (BI)
Previously, BI could only be used by big corporations. Small businesses now stand a chance to implement the BI software due to recent modifications. It is important for a business owner to have this skill.
Bi helps small businesses to:
Predict the future of the business
Analyze sales
Know what your customers' needs
Make quick fact-based decisions
Improve customer satisfaction
The list is endless, these are just a few of the benefits of BI. Microsoft Power BI is a good example of a BI software that is free and easy to use
Web Analytics
After creating your website, you need to monitor the activities and results of your efforts. This helps you to know what you are doing right, and what you have to change
Google analytics help you monitor the following and more: check the number of site visitors, know more about who they are, what they view on your site, how long they spend on each page.
Many web analytic tools are available for you to choose from. Google Analytics is a good example of a free analytic tool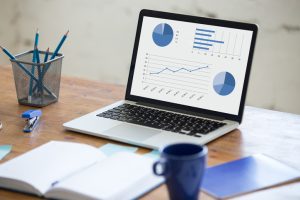 Email Marketing
Emails are still very much in use today even with the invention of more sophisticated marketing techniques.
A strong email marketing strategy helps you connect with your target audience. It helps you keep your customers informed about new products and services. This is a good way to keep in touch with your current and potential customers. Most especially, it increases sales
Graphic Design
Designing great graphics good way to get the attention of customers and investors. Having a great product/service is not enough, you need to create awareness using professional graphic design. Your logo says a lot about your brand
You can easily learn to use Graphic tools such as Canva and figma. These tools also help you design fliers for social media campaigns and give your business more exposure
Cloud Computing
Cloud computing enables you access all your data (photos, videos, documents, etc.) from any device. Your data is secure, improves collaboration. Examples which you could easily master are: Google Drive, Microsoft OneDrive, Dropbox or Salesforces
Spreadsheets
Spreadsheets have been in existence since the early 90s and it is still widely used today as a vital business tool for organizing and reviewing data. If you are only using it to create basic financial spreadsheets, you may want to invest some time into learning more about its other powerful functions.
Common examples are Microsoft Excel and Google Sheets
Social Media Engagement
Most business owners do not understand social media communication, therefore not using it effectively. Businesses only use Facebook and Instagram channels to promote products and services. You cannot build and sustain an online community by simply pushing out content about what you sell. At some point, your followers will grow tired of it, and will look elsewhere for content that is more interesting and relevant to them.
You have to engage them in meaningful conversions and know more about them. Also post entertaining content that has nothing to do with your business from time to time
Search Engine Optimization (SEO)
Understanding how search engines work will put your business in the lime light. SEO gives your website more visibility. You need to understand some of the most common terms associated with SEO like: backlinks, PageRank, anchor text, meta tags, search algorithm, SERP, and keyword density. Even better, take a quick seminar on SEO specifically for small business owners and entrepreneurs. In few hours, you'll gain some valuable skills that may dramatically improve your website's success.
Mobile Payment Processing
Receiving payment has never been this easy, when you compare it to the traditional payment methods.
There are many new mobile payment apps and solutions that are easy to use. From Google Wallet and PayPal to Square, Go Payment, and Venmo, the process of getting paid, sending funds, and even redeeming loyalty program points is now much simpler.
Before you implement any process, go through several options to know which one best suits your business
Get a tech skill today! Register for a course at SOUTECH https://bit.ly/soutechreg